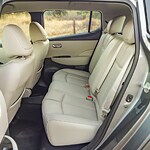 Given the impressive and incredibly expansive range of benefits that it provides, it's no surprise that the Nissan LEAF is a very popular EV. This sleek, all-electric automobile offers extraordinary comfort and convenience, while additionally giving eco-conscious drivers greater peace of mind. Ames locals can save money at the pump, and spend less on overall maintenance. At Lithia Nissan of Ames, we're excited to talk about the Nissan LEAF benefits that make these things possible.
Discover The Joys Of Driving With Absolutely No Engine Noise
Given that the Nissan LEAF is an all-electric car, it doesn't have a noisy, internal combustion engine. You'll be able to experience a smooth and incredibly quiet ride, along with the ability to clearly hear all of your favorite music and other in-car entertainment. Best of all, the LEAF is highly responsive as well. When you press the accelerator, you'll get all of the power and performance that you expect from any modern and innovative automobile.
Lower Your Carbon Footprint
Beyond offering comfort, convenience, and quiet operation, the Nissan LEAF is also eco-friendly. This car produces zero emissions. It doesn't require fuel-ups, fluid top-offs, or oil changes, so you won't have to worry about how these activities are impacting the environment either. To learn more about the Nissan LEAF, stop by Lithia Nissan of Ames to schedule a test drive.